European Rail Travel 101 - A Beginner's Guide
By Railbookers
Thursday, November 26, 2020
Read time: 8 minutes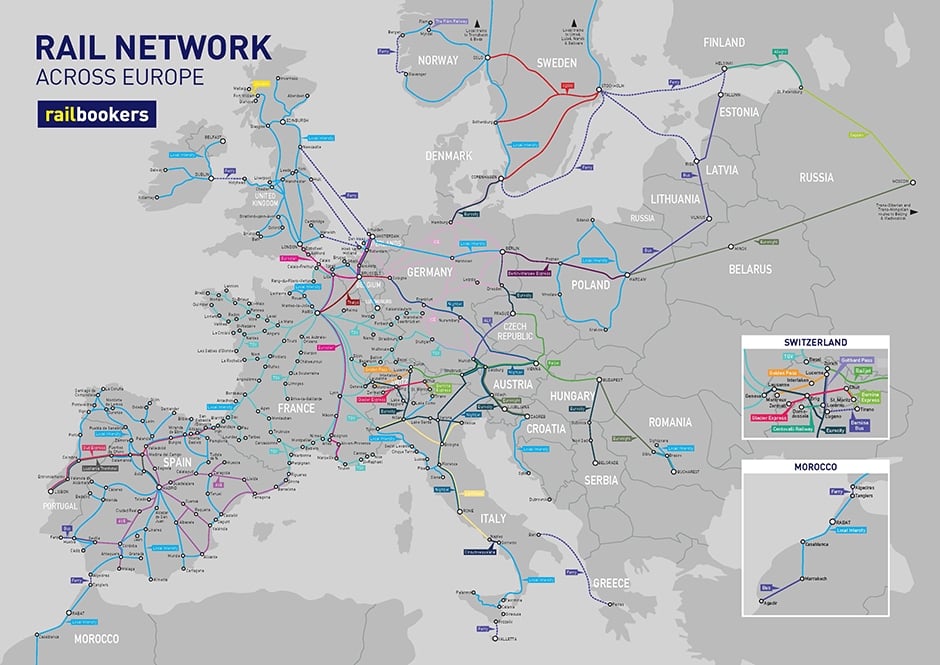 Europe's excellent rail infrastructure has made train travel one of the most popular modes of transportation for both locals and visitors to the continent alike. Taking the train is incredibly convenient, not only for quick city getaways but also for longer-distance, multi-country journeys.
Nearly every major city in Europe is connected by high-speed train routes, with travel from city center to city center often making train travel more convenient and direct than flying or driving. Now more than ever, vacationers to Europe from other parts of the world are incorporating train travel into their itinerary, whether it be a scenic, multi-country journey or a pre or post river cruise rail excursion.
Despite the ease and efficiency of actually riding the train in Europe, there is a lot to know to ensure a successful journey, from ticket types and navigating train stations, to the best routes and what to expect while onboard. The following quick guide will provide the beginner with some basics for successful train travel while in Europe.
Train Types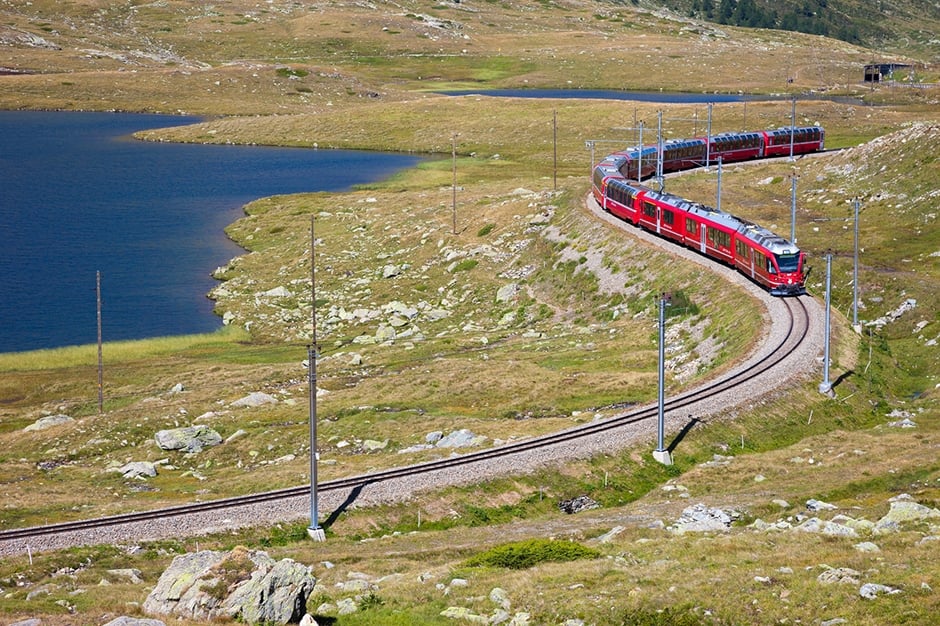 Trains are literally everywhere in Europe, winding from the ocean to the highest mountain peaks, and each route calls for a different type of train to maximize the journey for passengers.
The following trains operate throughout Europe:
High-Speed Trains
Traveling up to 200 mph and with relatively few stops, high-speed trains are the fastest way to get around Europe, covering large distances in smooth comfort. They travel between countries, often from one major city center to another. These trains guarantee you a reserved seat but are warned – other, slower, or non-reservable trains may run along the same route.
Regional Trains
Regional trains are intended for short-distance travel with frequent stops, typically connecting smaller towns and cities within the same region. These trains usually don't require a reservation and are a great way to discover the hidden gems of Europe, from the lakes of Italy to the coastal towns of the French Riviera.
Night Trains
Night trains can save riders precious travel time by moving between cities at night while you sleep onboard. Plus, you can choose the accommodation that best fits you and your travel budget. Trains equipped with sleeper cars offer different types of accommodations:
Sleepers, which offer private compartments
Couchettes, which are shared compartments, ideal for families with small children.
Many sleepers offer a limited number of cabins with ensuite facilities; these sell out very quickly, so it's always best to book as early as you can!
Scenic Trains
Scenic trains are typically shorter duration, slower, specially equipped trains that are designed to maximize the experience traversing exceptionally beautiful areas of the continent. Examples include the Bernina Express and the Glacier Express in Switzerland, the Flam Railway in Norway, and the Jacobite train in Scotland.
Luxury Trains
These are the bucket list train journeys, like the Venice Simplon-Orient-Express, the Golden Eagle, and the Belmond Royal Scotsman. Offering the very highest level of amenities and service, ride these trains for the journey as much as the destination.
Popular Train Routes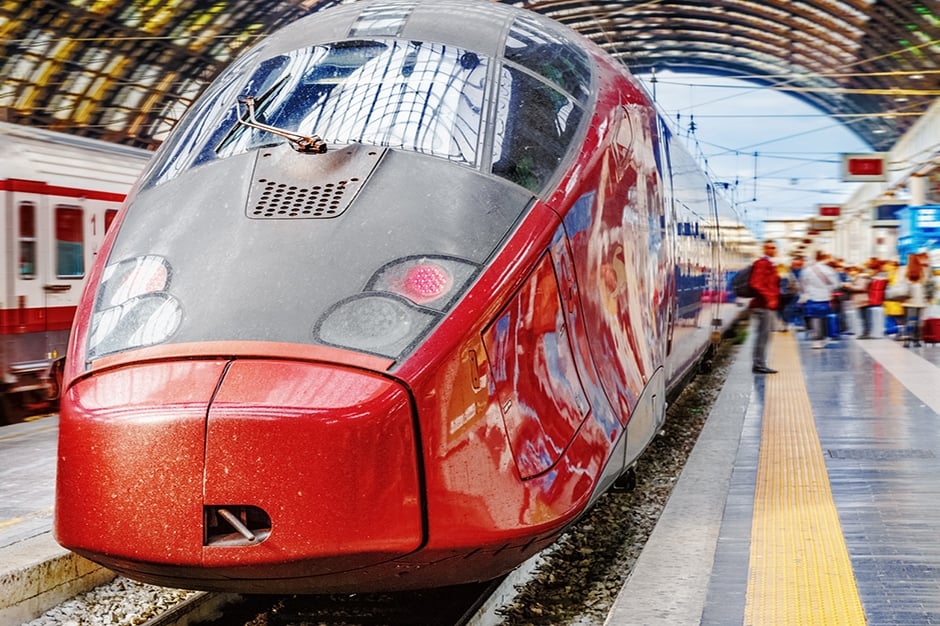 There are many different examples of each type of train journey.
High-Speed Trains
Regional Trains
The short journey between Florence and Siena
The coastline between Nice and Cannes, as well as, other fascinating towns along the French Riviera
Scenic Trains
Luxury Trains
Four Pro-Tips to Help you on Your Journey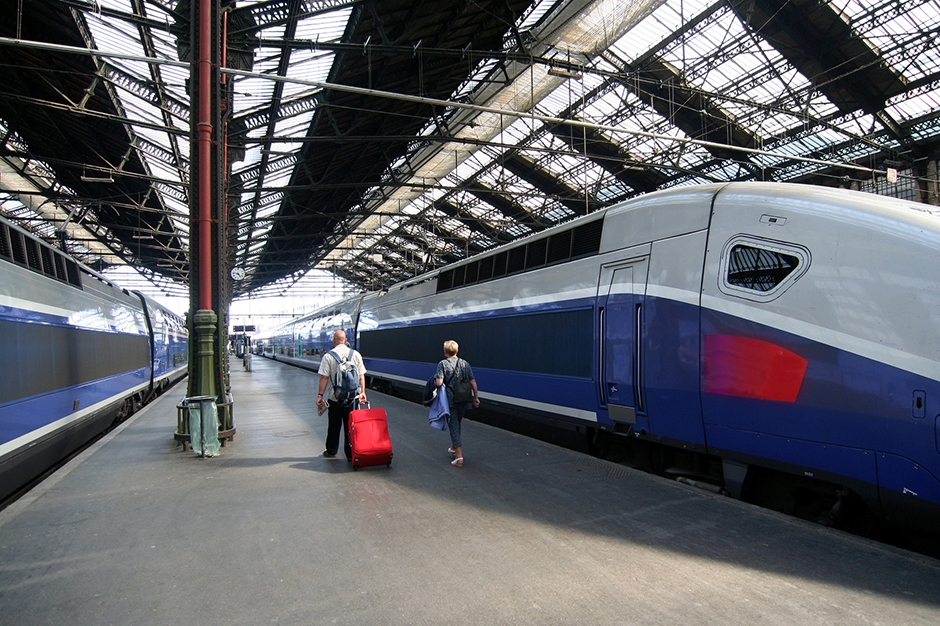 While historic and often beautiful, the energy of large European train stations can be overwhelming for first-timers. With locals rushing about and signs and other pertinent information in different languages, it can be easy to get confused. Frequent rail travelers recommend the following to beginners in order to be best prepared when you get to the station:
1. Arrive at the station at least 40 minutes to an hour in advance to give yourself time to get your bearings and find your way to the correct platform – remember you may need to walk down the platform to board your carriage, so don't wait at one end! Many platforms have a display showing where along the platform each carriage will be located.
2. Study the station and surrounding area map in advance so that when you arrive, you know what general direction you need to go.
3. Double-check the information and times on your ticket(s) with what's posted on the information boards when you get to the station. Remember that train journeys may call at several destinations – so your departure station may not be the final destination that the train calls at. You can always check the train number matches your ticket if unsure!
4. Once on the train and before arriving at your next destination's station, confirm your stop on a map and double-check your ticket for the name of the station.  
Popular Route Times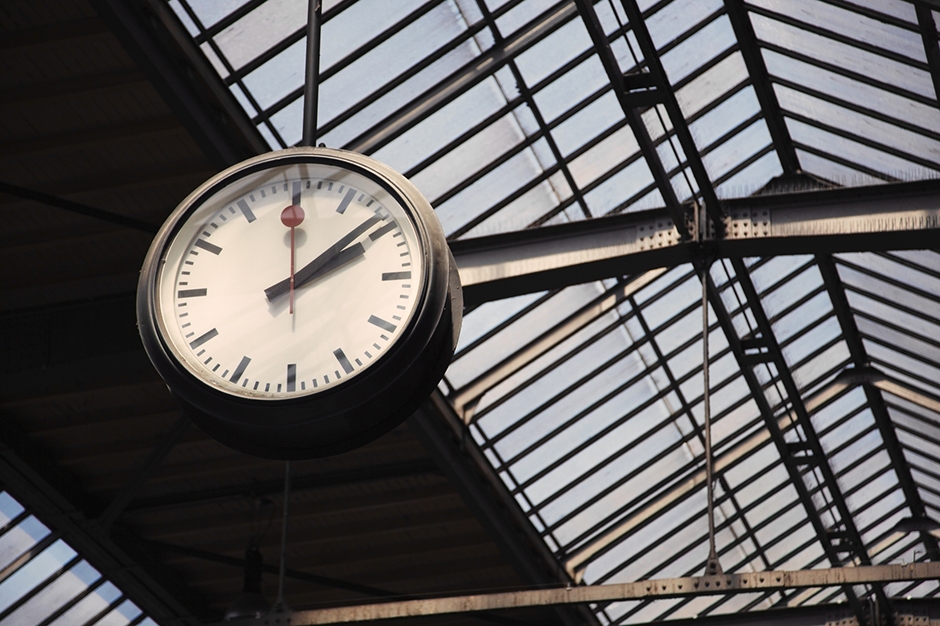 Travelers to Europe from other parts of the world are often surprised by how quickly you can get from city center to city center by train - in some cases faster than by plane when you factor in airport wait times and distance from city center. Some of the most popular routes by country, and the time it takes by train to get from city center to city center are as follows:
Onboard the Train
No need to go without on the train! With a little planning and preparation, you be well-fed and rested when you arrive at your destination. Most long-haul trains have a restaurant or cafe cars, while many shorter-distance trains offer snack carts with food for purchase. We'd always recommend taking a drink and snack on board with you, just in case! If you wish to save money or if you have specific dietary restrictions, you might be better off picking up food at the train station or at a local market for the ride. There's usually no limit to how much food and drink you can bring on the train – just be sure it's not more than you can carry. 
Luggage Guidelines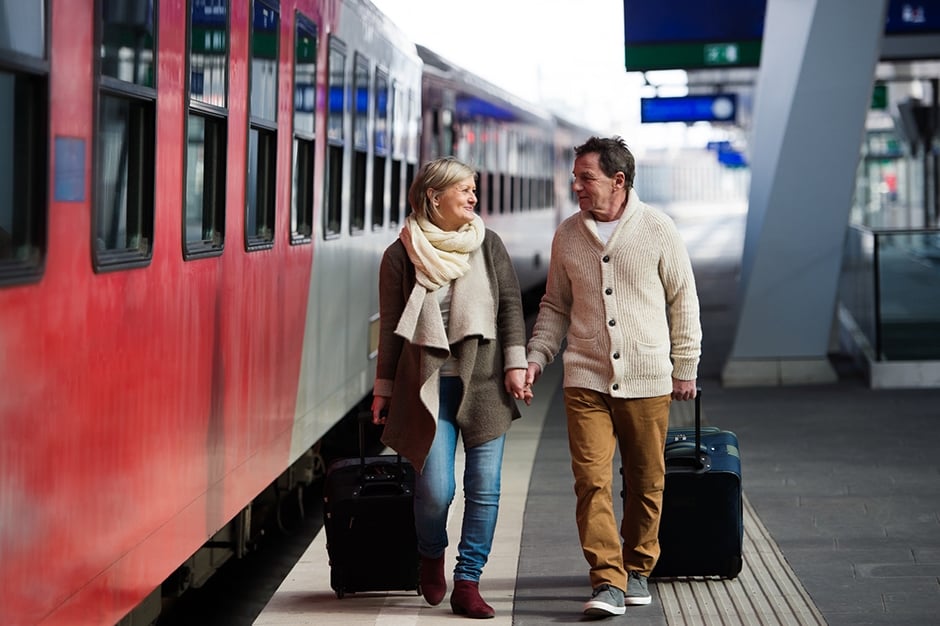 When it comes to train travel in Europe, packing smart equates to packing light. Although there are no specific luggage size or weight restrictions on European trains (with the exception of Eurostar between London and France/Belgium), the experts recommend traveling light, as you will need to be able to carry and store your luggage throughout the duration of your journey. Always keep your bags in your sight on the train, and make sure they're clearly labeled. 
Popular Itineraries
Consider one of Railbookers' popular rail itineraries below, or call us today and let us help you come up with of your own!
Discover two exciting European capital cities on this six-night journey by rail. Starting in London, see historic attractions such as the Tower of London and Big Ben and take a cruise along the River Thames. Visit a wide range of museums and attractions using an included London Pass with a hop-on, hop-off tour, and a skip-the-line ticket for the London Eye. Then, glide under the English Channel aboard the Eurostar to Paris and enjoy amazing food, unique shopping experiences plus the chance to explore a wide range of attractions with an included Paris Pass and Eiffel Tower Skip the Line tour with summit access. Consider adding on to this vacation with an additional rail journey to the South of France!
Take the scenic trip of a lifetime through Switzerland on this exciting vacation by rail. Starting with overnight stays in Geneva and Montreux, continue the journey along the scenic Golden Pass Line to Interlaken. Take a memorable trip to the highest railway station at the top of Jungfrau Mountain before traveling through the Swiss Alps aboard the Glacier Express to Chur. Complete this incredible journey with a day trip across spectacular viaducts and past impressive glaciers on the Bernina Express to Tirano, in Northern Italy.
Discover the charms and landmarks of three Italian gems on one scenic vacation along the rails. Explore the cities to their fullest with sightseeing tours and skip-the-line passes all included. Sail down the canals of Venice with a gondola ride, unearth artistic masterpieces in Florence, and gaze in awe at the Sistine Chapel's ceiling in Rome. Enjoy high-speed rail journeys connecting the fascinating cities. This is one Italian adventure you won't want to miss!
Discover two of the world's most scenic train journeys, the Glacier Express and the Bernina Express! Enjoy Switzerland's scenery on this classic four-night vacation with stops in the cities of Interlaken and Chur. Watch lush fields, rushing rivers, snowy mountain passes, and glaciers pass by from the panoramic windows of these two famous trains.
Take a Grand Tour of Europe by train, sampling six of the continent's best cities on this eleven-night vacation. Catch high-speed, comfortable trains between destinations to fit in as much adventure, excitement, and sightseeing as you can. Explore each city in full with added extras from hop-on, hop-off bus tours, to city passes and skip the line entrance tickets. The rail experts at Railbookers can help you plan the perfect European trip by rail and get you the very best prices on rail, accommodations, tours, and sightseeing. Because we enjoy insider access with rail companies, hotels, and tour providers, you can book your trip up to 24 months in advance and feel secure knowing you got exactly what you wanted!