Frequently Asked Questions: First Class Upgrades
By Railbookers
Sunday, March 14, 2021 - 20:00
Read time: 4 minutes
You asked us: What are the advantages of upgrading to First Class? For top tips on upgrading your train travel, check out our First class guide!
You asked us: What are the advantages of upgrading to First Class? What will it cost? When should I upgrade my seat? For top tips on upgrading your train travel, check out our First class guide below!
We love traveling by train! The convenience of whizzing straight from city center to city center, the relief of avoiding long airport queues, and being able to sit back, relax and watch the changing panoramas of the world go by from the comfort of our seat. When we quote on Standard Class we are confident it is more than adequate to give you a comfortable and relaxing journey. That said, we also understand that just like with upgrades to deluxe hotel rooms - our customers often like to maximize their comfort and upgrade the rail elements of their trips for added luxury! When deciding when and where to upgrade, consider the following:
What do I get?
Seats
Upgrading to First Class will invariably treat you to a larger, plusher seat with more arm and legroom - perfect for longer journeys!
It is also worth remembering that on many types of trains in Europe, First Class will have different seating configurations. For example, on Eurostar, Standard will give you the option of airline-style seats or tables of four, but an upgrade to Standard Premier will also give you the option of tables of two or seats on their own.
We know all train configurations on our holidays back to front, so just give your Travel Consultant a call and we'll always do our very best to help!
Catering
On many, though not on all, services in Europe and beyond, upgrading to First will offer you tasty treats!
In some cases, such as on Eurostar or Thalys services, an upgrade will treat you to a light meal or snack served to you at your seat. This will be appropriate to the time of day.
On many other trains, such as the Frecciarossa to Florence and Rome, you'll be served a drink at your seat with the opportunity to purchase food if you fancy it.
On ICE trains in Germany, you'll need to pay for your food locally, but First Class passengers can take advantage of at-seat meal service, ordering from menus provided.
Your Travel Consultant will tell you what food and drink to expect if you upgrade on your route. They'll help you choose where to upgrade accordingly if you like!
Remember you can always take your own food (and a bottle of wine!) on the train no matter which class you are traveling in. Train picnics are one of life's great pleasures!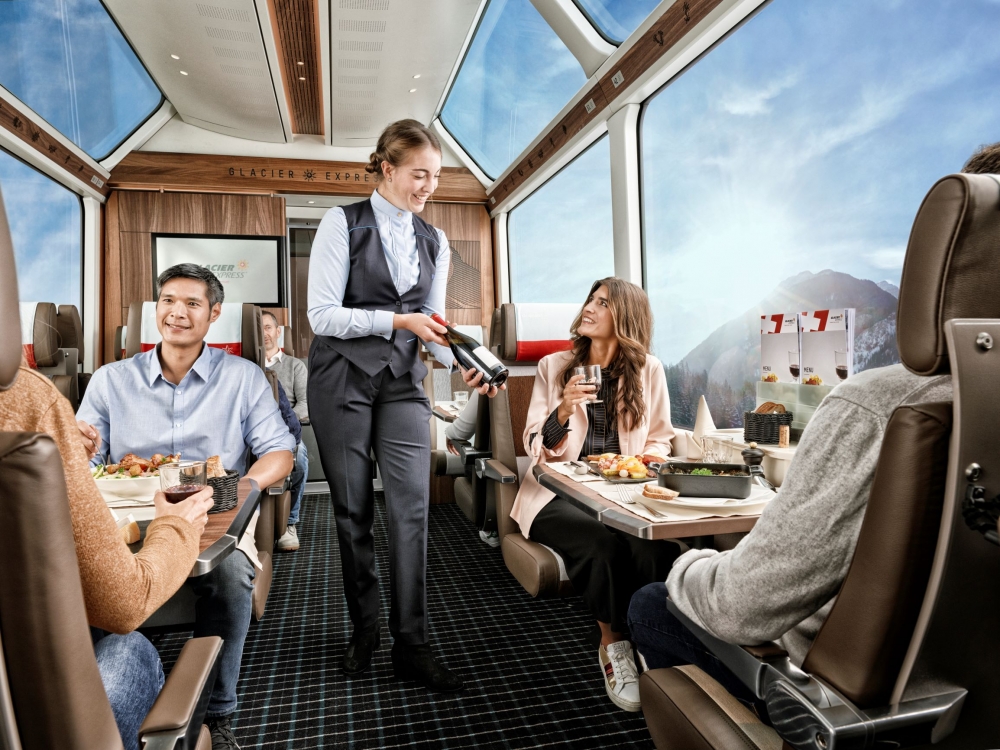 Lounges
Traveling to a main station? In some countries, such as Germany, it is often the case that larger stations have lounge access ready and waiting for those traveling in First. 
Lounge facilities vary from country to country but provide a quiet place for you to relax and wait for your train in comfort. Many serve beverages and offer free WiFi internet access.
Your Travel Consultant will be able to let you know if your station has a lounge. Some of the most popular include Berlin, Cologne, and Munich in Germany, Madrid, Barcelona, and Seville in Spain, Vienna, Salzburg and Innsbruck in Austria, and Zurich in Switzerland.
What does it cost?
Often not very much at all!
The fares to upgrade can be very reasonable. On Italian services, for example, we often have access to upgraded fares that are a small fraction of an increase on the Standard class fares.
With some rail providers, prices increase as more seats are booked. This means we can sometimes access First class fares available for a nominal upgrade charge if the availability in Standard class is particularly low.
Of course, as with any element of your holiday, it will depend on the service and when you are traveling! We will always be happy to quote you on upgrades for any leg of your journey and can help you decide which journeys to upgrade based on your priorities.
When should I upgrade my seat?
It is always worth speaking to your Travel Consultant about the possibilities. Here are some things to keep in mind.
Consider the length of your journey when deciding which to upgrade. We will be able to provide you with your train times and discuss the value of upgrades taking into account price vs. journey length.
Keep in mind which legs of your journey are likely to be busier! We often opt for the added comfort of First Class on a busy train, though we'll always include seat reservations in all classes where seats are pre-bookable.
Where journeys do not have seats you can pre-reserve, you're likely to get a better choice of seating at busier times if you travel in First Class.
Remind yourself of the services included when upgrading. Will you get a meal, drinks, or WiFi included onboard? If so, the cost of upgrading might seem even better value.
We know you'll love the scenery and relaxing rail experience no matter what class you journey in. Happy travels!