Frequently Asked Questions: Christmas Markets
By Railbookers
Saturday, November 23, 2019 - 20:00
Read time: 5 minutes
You asked us: Which is the best Christmas market in Europe? When should I book my trip? For our top tips on where to go and when check out our helpful Christmas market article.
Ah, Christmas markets. The wafting scent of sweet, spiced gingerbread, the warm mugs of steaming Gluhwein, and the soaring, dulcet tones of olde worlde carols as they drift through the winter skies. No matter the season just the thought of twinkling lights, wooden chalets, and smiling faces makes us feel festive. We know that you feel the same way, which is why every year our Rail Experts help create countless festive season vacations all over Europe. Visiting the Christmas markets is a relaxing way to reach your destination full of holiday spirit – plus you'll be able to transport all your gifts and souvenirs home with ease thanks to the lenient luggage policies!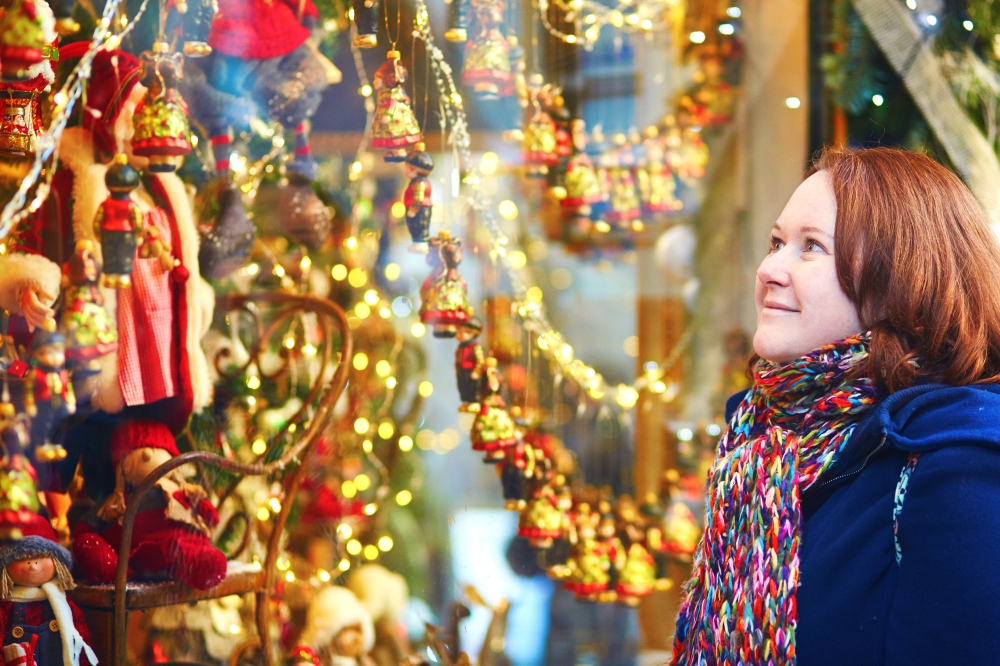 When should I book my vacation?
Eurostar seats are released six months in advance, so the earlier you book your trip the better! Other European trains are released three months after that, but we'd always recommend putting a deposit down so you get the best prices and the best hotel availability, too. Of course, the most popular hotels and train times book up in advance, so there's no time like the present to start thinking about where you'd like to go! Check out this year's Christmas market dates, and give us a call to book your trip.
Which is the best Christmas market in Europe?
With so many fantastic markets springing up in almost all of Europe's major cities, it can be confusing to decide where to go. We've put together a guide to four of the best around that are customer favorites year after year.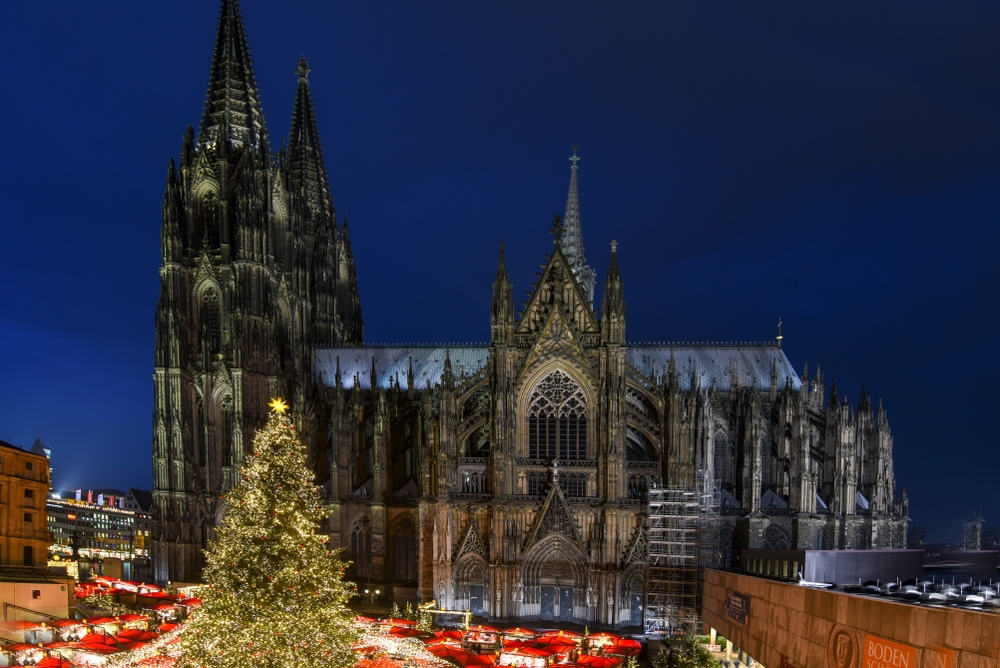 Every year, in the shadow of its magnificent Gothic cathedral, Cologne's Christmas markets sprawl out into squares, scenting the air with cinnamon and providing traditional doses of festive fun to locals and tourists alike. Truly, these are some of the best markets in all of Europe. If it's a traditional German experience you're after, this is one of the most extensive and the train ride from London is relaxing and comfortable. Children will love the fairytale figures and twinkling lights of the Rudolfplatz and fans of the dreamy spectacle will love the 'stars at night' theme of the Angels Market. Down at Cologne Harbour, there are more market stalls with elegant marquee tents set up against a beautiful backdrop. We know it'll certainly be pretty enough to tempt you to stay for a warming mug of Gluhwein. An exciting excursion at any time of year, a climb to the top of Cologne Cathedral at Christmas will treat you to dazzling sights over the German festivities, and if you get chilly there are plenty of fantastic museums and traditional restaurants to warm up in. Bliss!
Getting there: Cologne is remarkably easy to get to from the UK by rail, with comfortable journeys on high-quality high-speed trains and just a simple platform change at Brussels necessary en route. We're always advocates of using the left luggage facilities in Brussels and wandering into the city to explore. Ask us about timetables and we'll make sure you've got long enough for a good look around Brussels' Winter Wonders on the way!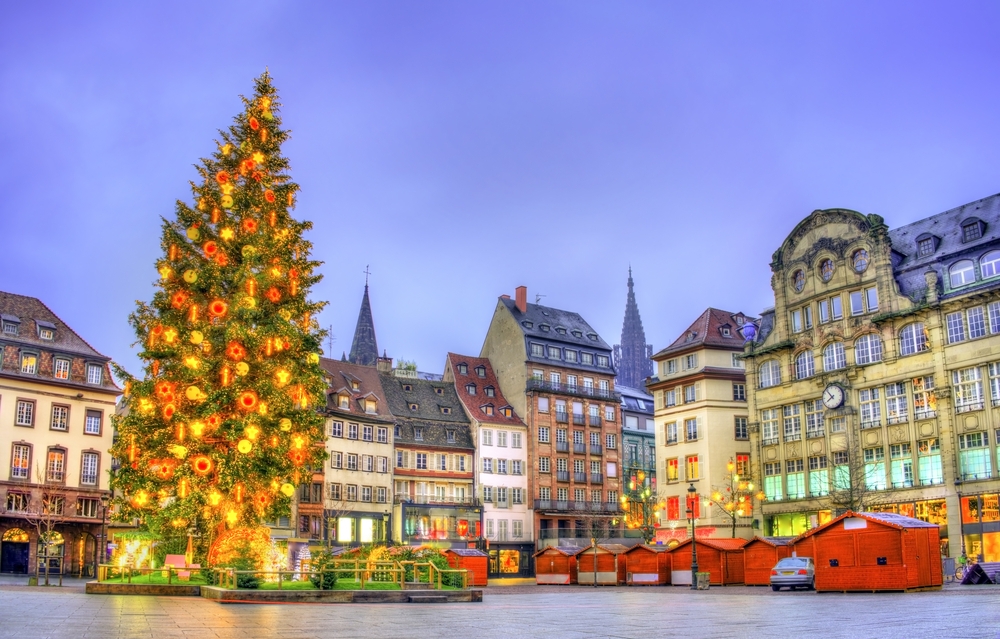 Firmly routed in tradition, Strasbourg's Christkindelsmärik claims the title of Europe's oldest Christmas Market. First held in 1570, more than a little has changed since then but the authenticity remains. Now featuring over 300 stalls, the market sprawls over 12 separate city locations and Advent concerts, a live Nativity scene, and wonderful live music ensure this is a vividly atmospheric helping of Christmas cheer. Strasbourg's great location close to the German border lends itself to a unique take on the Christmas phenomenon, and you'll find Alsace treats and goodies in abundance. Traditional chalets embroider the square by the majestic Cathedral of Notre Dame, and the city's Great Christmas Tree towers high over Place Kléber. Of course, the trademark half-timber houses, Alsatian taverns, and dreamy canals are only more gorgeous when lit up magically by fairy lights.
Getting there: You'll only need to change once to get to Strasbourg, in either Paris or Lille. You could always add an extra night in either city en route  - just ask us for details and we'll arrange everything for you. Give us a call to tailor-make your ideal festive getaway.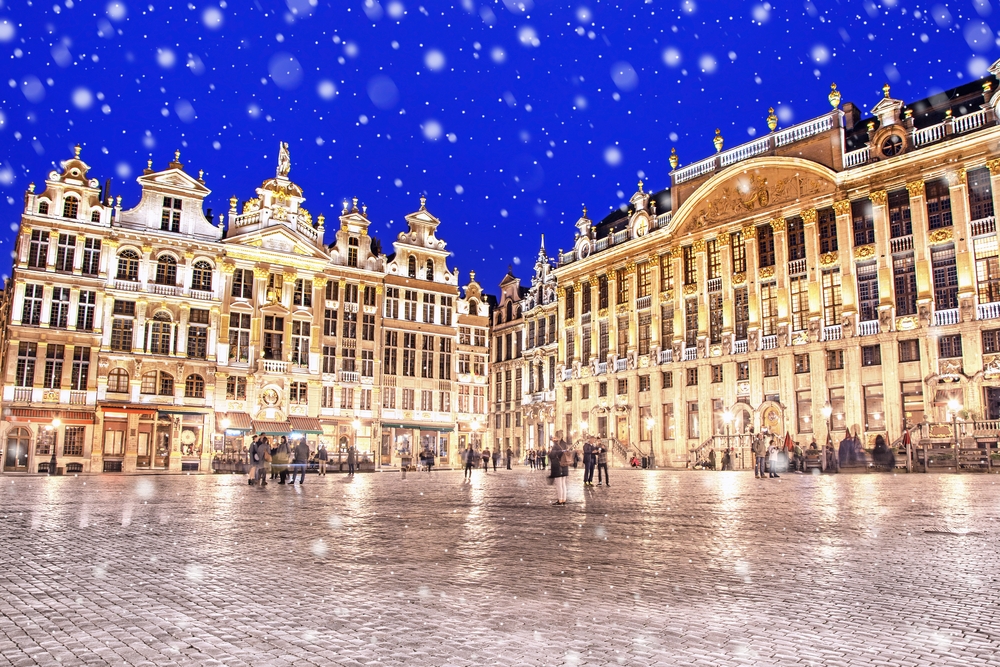 If it's scale and spectacle you're after, Brussels is the way to go. Every year in November, Winter Wonders throws open its (proverbial) doors and enchants thousands of people from all over Europe. A sparkling Ferris Wheel, glowing ice rink, mammoth Christmas trees, and a daily light show make this one of the continent's quintessential festive experiences. What could be more delightful than warming up a cool winter evening with a warm, sugar-dusted Belgian waffle and watching the illuminated Grand Place dazzle with the spirit of the season? Christmas shoppers will find traditional delights in over 250 chalets selling traditional gifts, homemade goodies, and quaint handicrafts - as well as the obligatory mulled wine and sweet treats, of course. With the Grand Place, Bourse, Place de la Monnaie, Place Sainte-Catherine, and the Marché aux Poissons all animated with the holiday spirit, and traditional fairground rides for the kids, this is one event that's sure to melt any Christmas market, Scrooge.
Getting there: Getting to Brussels from London is as easy as (mince) pie with Eurostar! You'll race through the channel tunnel and be in the festive land of wonderful beer and sweet-smelling waffles in just two short hours. It's that easy. To take advantage of our city-center hotel offers and tailor-make your perfect Christmas trip, chat with one of our Rail Experts.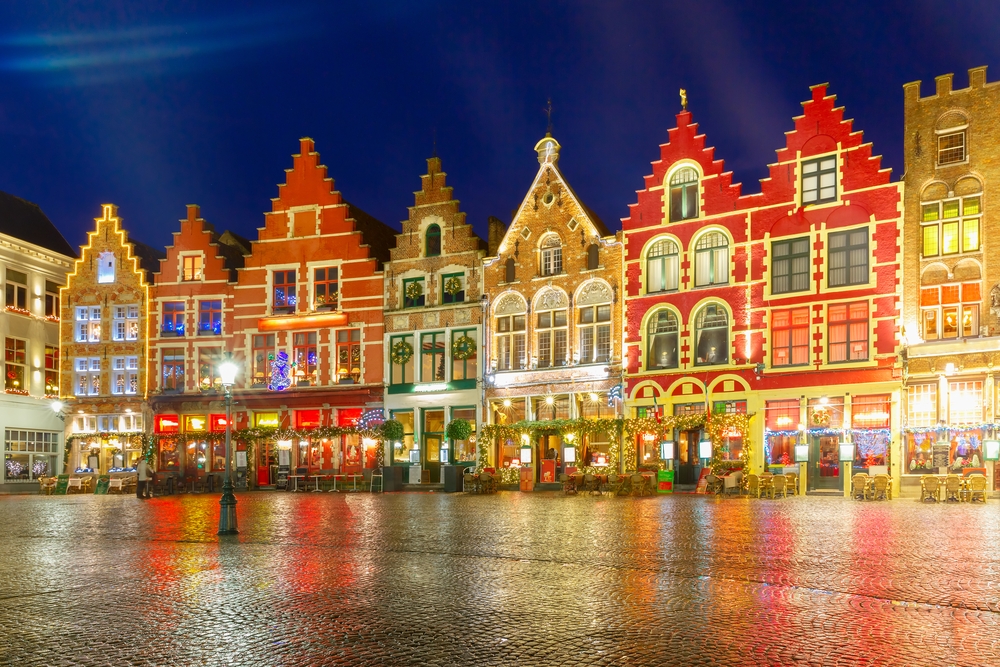 The undeniable charm of Bruges only intensifies when it's illuminated by thousands of twinkling lights.  Dazzling lights are strung to gables along the sides of the chilly canal and in the shadow of the majestic Belfry. Families and adventurous adults will love the ice rink that takes center stage in the main square, and traditional market stalls embroider the cobbled lanes, making the festivities seem like a city-wide maze of magic. Of course, this is only enhanced by the sound of traditional brass bands and the sights of Nativity scenes. Spend your days immersed in medieval magic along the picturesque streets, dipping into dozens of authentic market stalls. Warm, traditional coffee shops and restaurants will throw open their doors and serve a warm welcome and delicious regional cuisine to keep your festive cheer continuing long into the evenings.
Getting there: After an easy journey to Brussels on Eurostar, a simple platform change will see you on your way directly to Bruges. The onward journey takes under an hour, so you could be enjoying Gluhwein in the Market before you know it. Give us a call to book your Christmas trip.